Tennis Elbow – known medically as Lateral Epicondylitis – is an inflammatory complaint caused by repetitive use of the upper arms and – guess what – it's extremely common amongst tennis players.
Although around 3% of the general population suffers from it, that number leaps up in the tennis community causing pain and misery to millions. In fact it's estimated that between 10 and 50% of tennis players (Nirschl, 1992) will suffer from tennis elbow at some point and it's all the more likely amongst males and the over 40s. (Johnson et al, 2007)
And if you've landed on this page it's a fair bet you're one of them.
While there are a number of things you can try to alleviate the condition (more of which later) one thing you really should get right is the racket you use. Certain rackets will undoubtedly exacerbate the condition and as a coach I've seen a number of examples of a change to a more arm-friendly racket helping to ease – and in some cases completely get rid of – the pain of TE (Tennis Elbow).
Our Top Picks
Our Criteria
Before we get into the reviews, a quick word on what we've looked for when recommending rackets for tennis elbow sufferers. In other words, what do we mean when we talk about an arm-friendly racket?
Weight
If you take a look at our guide to selecting the perfect tennis racket we stress the importance of selecting the heaviest racket that you can handle. That's because the more weighty the stick the more shock it will absorb, the more powerful your strokes and therefore the LESS you have to strain the arm – and the joints – to get oomph into your shots.
BUT…
If the racket is TOO heavy you risk straining the arm anyway just swinging it for three sets.
That's why we've chosen rackets with a range of weights for this list but BEWARE – you need to choose a racket that's the right weight for you.
Stiffness
Tennis elbow sufferers should avoid ultra stiff rackets. They may prevent the power of your returns being lost to the vibrations of the frame but they jar the arms and put terrible strain on the joints.
That's why we've only selected rackets with a low RA rating – 65 or below. Babolat Bros look away now.
Head Size
Often TE is caused by poor technique. Making contact with the ball on the edge of the string bed jars the arm and rattles the joints.
Of course mishit shots are a fact of life for most of us but you can reduce their frequency by choosing a racket with a nice big sweet spot. That's why we tend to recommend a larger head size for tennis elbow sufferers.
String Pattern
An open (16×19) string pattern offers greater shock absorption than a closed string pattern allowing for a more comfortable swing and less impact being taken by the body. That's why we've recommended rackets with an open string pattern.
Material
Finally we've avoided any rackets made out of cheaper materials such as aluminium. Our picks are all made from high quality modern materials which move and flex and offer a comfortable swing.
And with that it's on with the recommendations for our best tennis rackets for tennis elbow…
---
Head Size: 100 sq in | Unstrung Weight: 295g | Stiffness: 55 RA
Pros:
Extremely flexible despite solid feel
Ultra gentle on the arms
Forgivingly large sweet spot
Cons:
At only 55 RA this Wilson Clash is one of the most flexible frames we've seen. Its ability to absorb the shock of the ball striking the strings immediately sets it apart as an incredibly comfortable and arm-friendly stick.
In a less well-made racket that might come at the cost of stability but this still manages to feel solid and offers a good amount of control.
Wilson say they've tweaked the construction at the top of the hoop to increase the size of the sweet spot and we must say it is extremely forgiving. It's hard to really play one of those bone-rattling bum shots.
As a relatively lightweight racket it does lack something on the power front but many players find this such a comfortable and accurate stick that they'll take that compromise. Alternatively you might choose to modify it with lead tape to increase the head weight.
---
Head Size: 100 sq in | Unstrung Weight: 315g | Stiffness: 59 RA
Pros:
Extremely thin, flexible beam
Speed and manouevrability
Buttery feel
Cons:
Like the Wilson Clash, lacks a bit of power
If you're an intermediate or advanced player who generates their own power and appreciates a speedy racket you may already be familiar with Prince's Phantom line.
What you might not have considered is just how soft and buttery they feel on the arm due to their extremely low stiffness.
This particular model comes with Prince's recognisable cross beam intersecting the throat which allows for decent stability despite the high flex.
Prince use a combination of graphite and Textreme in their frames which is an ultra strong and light carbon fibre. Here that allows for good strength despite a thin and flexible beam that's nice and easy on the arm and clean to manouevre.
That makes it great for quick reactions, especially at the net.
If you're on a budget it's worth exploring the full Phantom range as these often come in at a decent price – especially if you're not worried about getting the latest model.
---
Head Size: 97 sq in | Unstrung Weight: 310g | Stiffness: 60 RA
Pros:
Vibration Dampening Handle makes even bigger shots arm friendly
Thin, very flexible beam
Isometric Head shape offers forgiving sweet spot
Fun and easy to hit with
Cons:
Lack of feedback on shots
Have you hit with a Yonex recently?
Here at Heavy Topspin we always seem to be caught out by how comfortable and playable these rackets are.
Yonex is well known for its instantly recognisable Isometric head shape which offers a much larger sweet spot than you'd expect. But these models also incorporate a technology into the handle called a Vibration Dampening Mesh which – as its name suggests – reduces the impact on your arm when you wind up for a bigger shot.
The graphite in the frame is blended with something called NAMD-2G – aka Flex Force – which has brought the flexibility down to a very forgiving 60 RA. The result of all of this is a really comfortable, arm-friendly experience with plenty of pop and speed. It's just a really fun racket to play with.
Frances Tiafoe agrees as this is his stick of choice.
Some users have complained that this is so soft and cushioned you lack a bit of feedback from your shots. Valid concern but if you're here for comfort this is an excellent choice.
---
Head Size: 100 sq in | Unstrung Weight: 315g | Stiffness: 58 RA
Pros:
Kinetic tech dampens shock
Plush, soft strokes
Good control and accuracy
Cons: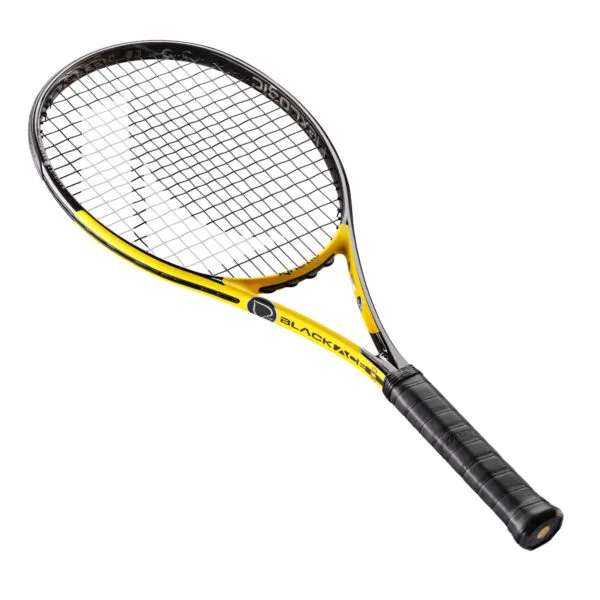 ProKennex takes probably the most innovative approach to vibration dampening with their Kinetic range of rackets.
They feature hundreds of tiny granules within the racket's head and its handle which serve a dual purpose – firstly adding thrust to your shots as you swing the racket forward and increasing the power of your strokes. But then those granules spring back, absorbing the energy of the shot and cutting down on vibrations.
It's simple but fairly ingenious and is the reason that ProKennex are renowned for producing some of the most comfortable frames on the market.
This particular model has a thin 21mm beam offering a lot of flex making this one of the most plush, comfortable rackets we've tried.
---
Head Size: 115 sq in | Unstrung Weight: 255g | Stiffness: RA 70
Pros:
Easy power
Massive sweet spot
Lots of vibration dampening tech
Cons:
Huge head may be too bulky for some
Volkl claim the V-Cell 1 'may be the most comfortable and playable super oversize racquet in tennis'. Bold statement but Volkl do have form when it comes to arm-friendy sticks.
The thing you'll notice immediately with the V-Cell 1 is its 'Power Arm', a vertical bar across the racket's throat which gives the frame added strength and stability. What that stability allows is more movement in the string bed courtesy of an unusual figure of eight grommet shape which gives you easier power and trampoline effect.
As if that weren't enough, this model offers an enormous 115 sq in head making for an extremely forgiving sweet spot. It also uses what they call a Revolutionary EVA material (REVA) in the handle to dampen vibrations and improve feedback while also (tellingly) offering more stability for off-centre hits. That's coupled with a pin system inserted into the butt cap to absorb smaller vibrations (similar to that used in skyscrapers to dampen shock from earthquakes apparently!)
It's easy to get blinded by the science of all of these technologies (and I think some brands rely on that) but in this case it's clear that a lot of thought has gone into making the racket as arm friendly as possible and the result is a really comfortable and easy to play with frame.
Personally I find a head size that large a bit unnecessary and bulky. But if you're a beginner (or just looking for an easier racket) you might well appreciate that. If not it's worth checking out the rest of the V-Cell range to find one with a smaller head.
---
How to choose the right arm-friendy tennis racket for you
If you're suffering through the pain of tennis elbow or you're just hoping to avoid it ever developing, choosing the right racket is a must. But as with most things it's not one size fits all.
Below are some questions to ask yourself when considering which racket to choose.
How strong are you?
As we've said before, picking the right weight of racket is essential. If your racket is too heavy for you you're putting strain on the joints. That's obvious.
But what you might not have considered is that if your racket is too light for you you're having to do extra work to get power into your shots. Again, that's going to be felt by your joints.
So really consider what is the right weight racket for you. Is your current racket so heavy that you struggle to get through a match? Consider something a touch lighter. Have you been playing for so long with a beginner stick that you've outgrown it with your Michael Russell ripped frame? It might be time to upgrade.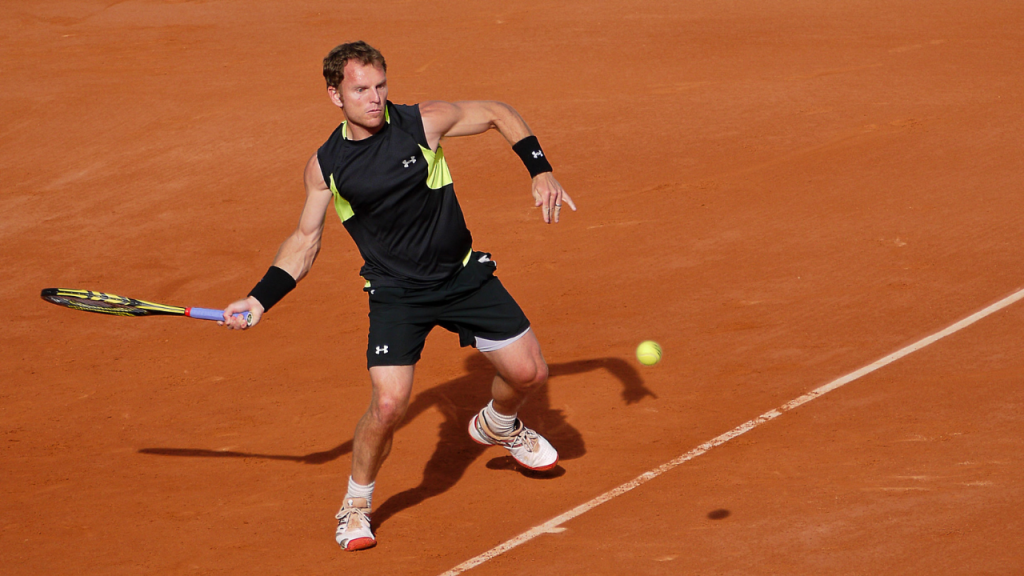 How's your technique?
Be honest. Do a large percentage of your shots come off the far reaches of the string bed? It might be time to own it and move to a larger head size.
Do you tend to muscle through your shots putting undue strain on the joints? You might need to adapt to a touch game or opt for a racket with more natural pop.
Of course other than racket selection technique is your best shot at avoiding injuries of all kinds.
Single handed backhands can often cause issues with Tennis Elbow and moving to a double handed shot can definitely ease the strain.
Likewise, if you do put undue strain on your arms, consider your torso and leg position when following through. You'll get extra power into your shots by focussing on the body as a whole and take the impetus off of individual joints.
What's your string set-up?
Most of our recommendations will come unstrung so you need to consider what strings to go for and at what tension.
You can check out our guide for more information on string tension but it's worth avoiding polyester if you suffer from tennis elbow. They may last forever but they're extremely stiff and harsh on the arm. 
Multifilament or natural gut strings are far kinder and easier, especially at the thinner gauges. You may have to replace the strings more often by your joints will thank you.
When it does come time to restring also bear in mind that the lower the stringing tension, the more shock is absorbed and so the less your arm will feel those bad vibrations.
It might take a bit of getting used to if you usually string in the 60s and you drop to the mid-fifties but again, you might just find you can play without the pain so it's probably worth it.
How fresh are your balls?
Stop sniggering.
Like dead strings, dead balls are a proper pain in the arm. Avoid!
Give Pain the Elbow
Hopefully this guide has given you a good idea of what to look for when searching for a racket to ease your tennis elbow. But don't overlook the need to check in on your technique. And if you're really struggling there's no substitute for seeking out a decent qualified physio or physical therapist.
Bark does a great job of recommending highly rated therapists in your area.
Although personally I've been lucky enough to avoid tennis elbow, I've suffered through various other injuries over the years and it's worth every penny to rid yourself of the pain and get back on court.