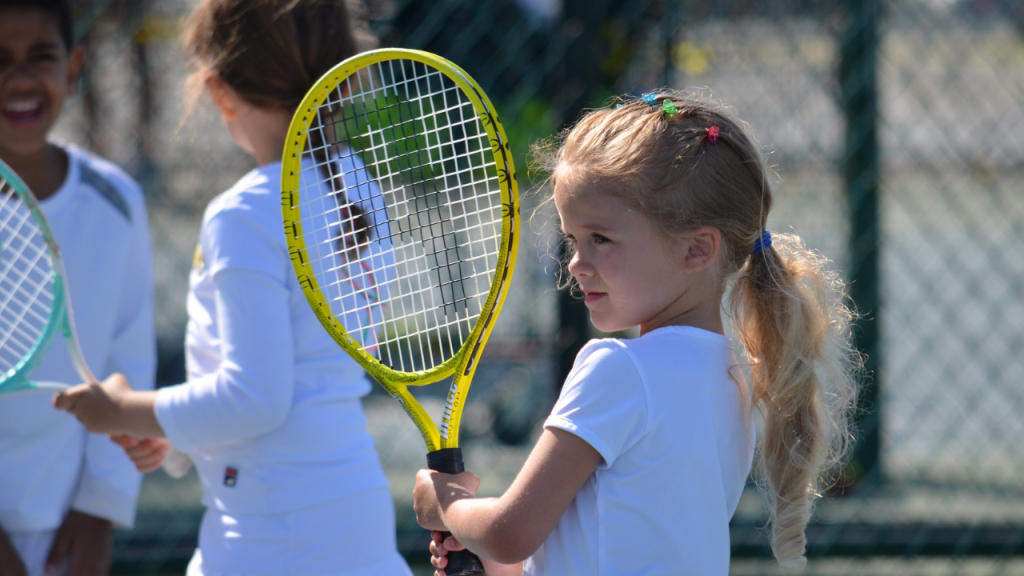 But finding the right tennis racket for your child can be tricky.
If you want your child to enjoy the game, make good progress and avoid unnecessary injury it's imperative to choose well. As a coach I've seen plenty of kids come into class swinging a racket that's too small for them, too heavy or just poorly constructed.
Unsurprisingly those kids don't make good progress and soon become discouraged and quit.
That's why we've put together this guide to help you choose the right junior racket for your child.
If you're short of time and just looking for the best overall pick, you can't go far wrong with the Babolat Nadal Junior. It's a well made racket from a great manufacturer and it's available for a very reasonable price.
But if you're after some slightly more tailored advice, read on…
Our Top Picks
Best Rackets for a 3-5 year old – Wilson US Open 19 | Street Tennis Club
Best Rackets for a 6-8 year old – Head Speed 21 | Wilson Minions 2.0 23
Best Rackets for a 9-10 year old – Babolat Rafa Nadal Jr 25 | Head Coco 25
Best Rackets for an 11-12 year old – Babolat Pure Drive Jr 26 | Dunlop CX 200
Our Criteria
Before we get into the individual reviews here's a quick breakdown on what we've looked for when selecting these junior rackets.
Appropriate Length
The number one consideration when choosing a racket for a child is its size. While adult rackets all come in at the same length – 27 inches – junior racket sizes vary depending on your child's height.
Give a child a racket that's too big for them and of course they'll struggle to control their shots, dragging the frame across the floor. Too short and their technique will suffer.
For this round-up we've taken a child's average height for their age as a guide to which racket to choose. Very roughly, they are as follows:
| Age | Racquet Length |
| --- | --- |
| 3-5 Years | 19-20″ |
| 6-8 Years | 21-23″ |
| 9-10 Years | 24-25″ |
| 11-12 Years | 26″ |
But before you start screaming at your laptop, yes, children develop at different rates so be sure to check out our buyers' guide below for more in depth advice to selecting the right length racket.
Almost all of our picks come in a range of lengths so be sure to get the right size for your child.
Durability
You won't be surprised to hear that kids' rackets take a pummelling – and not just due to mini-McEnroe style meltdowns.
Learning the game means frames get scraped and bashed so you need a racket that's well constructed. All of our choices tick that box and should last until your child outgrows them.
Lightweight
All of our choices are made from either a lightweight aluminium or a graphite construction. This allows your child to concentrate on their technique without having to worry about muscle exhaustion.
Prestrung
You'll find a lot of talk online about how much strings and their tension affect the playability of a tennis racquet. It's all true but in our opinion you don't need to worry about all that until your child's game is properly developed and they've moved onto an adult frame.
That's why all of our picks come pre-strung. It's one less thing to have to worry about and will save on cost.
Affordability
Speaking of cost, most of the rackets we've chosen are low budget. Especially when your child is growing we would avoid spending too much on a racket. They'll grow out of it pretty quickly and it's more important to make sure they move on to the next size up than spending a fortune on a racket that will soon be too small for them.
That said, in the 11-12 category we've thrown in some higher quality choices. These are essentially smaller versions of the adult ranges. They're really great rackets if your child's game developed well but they're not quite ready for an adult frame. If not, we'd suggest opting for one our younger picks but just selecting the next size up.
And with that all said, we present our pick of the best junior tennis rackets…
---
At only 19 inches long, this is Wilson's entry level racket for little people. Made from what Wilson calls their Airlite Alloy it's an aluminium construction which is surprisingly lightweight at only 180 grams but nice and durable. Also features a 3.5in grip, which is much more realistically sized than some in this category and perfect for smaller hands.
Designed to pair with the red or foam starter tennis balls your child will be using at this age this is a great pick. Also available in size 21, 23 and 25 for older kids who are also new to the game. And even comes bundled with a smart tennis bag if you're looking to make it more of a gift.
---
For slower sprouters this 17 inch frame is even smaller than the Wilson above. Although not a household name, Street Tennis Club design their rackets specifically with kids' needs in mind.
Their aluminium frame only weighs 200 g and comes in a pink and white design aimed more directly at girls which is good to see.
Some users have complained that although the frame is durable and well made the paint chips fairly easily. To be honest that's a risk you take with a kids' racket and at this sort of price you can't go too far wrong.
---
Head's Speed range for kids is an incredibly hot seller and for pretty good reason.
Despite having a similar light but sturdy aluminium construction to the above picks the head size is much bigger at 107 sq in allowing for a nice forgiving sweet spot. Perfect for kids who get easily frustrated.
A note – take Head's own suggested age ranges with a pinch of salt. A few customers have complained that these come up too big for their children. We would agree. Make sure to check our guide below.
Thankfully these rackets come in a variety of sizes.
---
This is the latest collaboration between Wilson and Gru's tiny yellow army. What they have to do with tennis I don't know but I do know that my own kids go crazy for them and if it inspires them to keep picking up a racket that's got to be a good thing.
The racket itself is of the quality you'd expect from Wilson with their Airlite alloy frame and a useful plastic bumper guard to keep that cartoon paint job intact.
You can get this bundled up with a Minions rucksack and a pair of string dampeners which does make for a nice looking gift.
---
As your kids grow into the game they'll inevitably start trying to emulate the pros and none more so than Rafael Nadal.
Babolat have produced this range of entry-level rackets endorsed by the King of Clay, complete with the same paint job that Nadal uses on his own racket.
At 108 sq in on the 25 inch model the head size is ample and will allow for the odd miscued swing. It also gives you a little extra power despite being fairly lightweight. Useful if your kid doesn't quite have Rafa's build yet.
---
Named for the USA's teenage sensation Coco Gauff, the Head Coco is aimed more squarely at young girls taking up the game.
This is another aluminium frame but comes with Head's DampPlus insert which is designed to absorb shock and make for a more comfortable swing.
It's a really nice looking and well made racket as you'd expect from Head. Unlike many of these more budget picks it also comes with a cover and strap – handy for carrying around.
This would suit younger players too and it comes in the full range of sizes.
---
As your child starts taking the game more seriously they'll be looking for a racket to reflect that.
This Babolat is the shrunk down version of their ever popular Pure Drive range. It's got a very similar composition to the real thing albeit much lighter at 250g. Babolats take some flak for being very stiff but they've accounted for that with the junior version, this one coming in at a much gentler on the joints 64 RA.
With a choice of grip size (4 in or 4 ⅛ in) this is a racket for a kid who takes the game seriously but isn't quite tall enough for the full adult size stick. That comes at a cost though so we would not recommend this racket for a complete beginner. In that case look for maybe the Rafa Jr or the Coco in a 26 inch size
---
Another frame modelled on its full size counterpart, this Dunlop CX 200 comes with full graphite construction. It's less pricey than the Pure Drive above and wields less power too although it's still a step up in terms of feel and control.
At 100 sq in the head size is at the bottom end of our junior recommendations. But if your child has developed their game and has some strength by now that's a good thing. It means the racket's easier to control so they can place their shots more accurately.
Essentially, if your child's game has outgrown the more entry level aluminium frames but you don't have the budget for the Babolat, this is a great choice.
---
How to choose a junior tennis racket for your child
We've written a full guide to choosing a tennis racket right here but if you're looking for specific advice on what to look for when buying for a child, read on…
What Is the Best Size Tennis Racket for My Kid?
As mentioned above, the most important thing to get right when selecting a racket for your child is the length. You can approximate that by age but as children grow at different speeds, it's wise to match racquet length to your child's height. The LTA has a good guide to this and you can check out our table below for a better idea:
| | |
| --- | --- |
| Height | Racquet Length |
| Less than 100 cm | 17″ |
| 100-110 cm | 19″ |
| 110-120 cm | 21″ |
| 120-130 cm | 23″ |
| 130-137 cm | 25″ |
| 137-148 cm | 26″ |
If you're still unsure, as a general rule, if your child holds the tennis racket by their side the top of the frame should hover somewhere between their ankle and the floor. If it scrapes on the ground the racket is too large. If it's well above the ankle, too small.
Do I need to worry about grip size?
Short answer – not really. Junior rackets don't tend to come with a choice of grip size and the grip they give you correlates to the length of the racket. You should be fine.
In the unlikely event that the grip feels too small for your child you can always build it up with an overgrip.
How much should I spend on a junior racket?
As you'll see from our round-up, a decent entry level racket can be had from around $30 or £25. Until your child progresses significantly we wouldn't recommend spending more than that. Kids grow fast. Save your money for the next size up. As they're developing, it's more important that they play with the right size racket than a frame with all the bells and whistles.
Saying that, when their game does improve and they start to be able to play competitively the more expensive graphite rackets will start to make a tangible difference.
Is there any difference between girls' and boys' rackets?
Aside from maybe a paint job there's no difference at all.
Of course, the way a racket looks will have a big influence on your child's enthusiasm to pick it up, especially at a young age, so it makes sense to pick a colour scheme or theme that they'll be happy with.
Our Overall Verdict
Kids are spoilt for choice these days for well made rackets from top brands at affordable prices. While correct sizing is essential a lot will come down to your child's personal taste when selecting the right frame. But if you're looking for an overall pick that will suit most children for a reasonable budget, the Babolat Rafa Nadal Jr is a really good choice.