There are various reasons you might want to add an overgrip to your racket. Maybe you've bought a new frame and the grip size is slightly small for you. Or you prefer a more tacky feel to stop the grip slipping from your hand.
You might need a more absorbent grip in the summer months to dry those clammy hands. Or perhaps you just want to protect your racket's original grip from wear and tear.
Whatever your reason there's an overgrip out there to suit your needs. If only there was a handy, well-researched round-up guide to point you in the right direction. Oh look! You're in luck.
If you're short on time our favourite all-rounder overgrip is the Wilson Pro Comfort. It's a great mixture of tacky, soft and durable and is well loved in both the pro and amateur tennis community and for good reason.
But if you're after some slightly more tailored advice, read on…
Our Top Picks
Best Overall – Wilson Pro Comfort
Best for Sweaty Hands – Tourna Grip | Yonex Dry Grap
Best for Blisters – Head Prime Pro
Best for Feel – Wilson Pro Sensation | Babolat VS Original
Thickest – Pro's Pro Aqua Zorb Premium
Tackiest – Tourna Mega Tac
Our Criteria
Before we get into the reviews, a quick word on how we made our selections.
There are six main factors we've considered when selecting these overgrips – tackiness, absorption, thickness, comfort, durability and price.
We've tried to offer a selection to cater for your individual needs but rest assured, all of our choices are extremely well-reviewed and well-loved in their own way.
And with that we present to you our best tennis overgrips…
---
Pros:
Great balance of tackiness and absorption
Soft, felt like finish
Retains racket's feel
Very comfortable
Cons:
Not the best for extreme sweat
The Wilson Pro is probably the most popular overgrip on the market and for good reason. Used by a number of pros – most notably Roger Federer and the Williams sisters – it's a super soft and comfortable grip with a felt-like finish.
It's got a decent ability to absorb sweat whilst also being tacky enough that the racket won't fly out of your hands and take out your opponent. And while it's agreeably spongy it's thin enough that you still maintain a good amount of the original feel of your racket.
It feels great in the hand and it lasts a long time – unlike certain overgrips.
If you're playing in extremely warm conditions or are prone to sweaty palms you might consider something a little more absorbent but if you're looking for a great all rounder this is a perfect choice.
---
Pros:
Amazing sweat absorption
Comfortable feel
Cons: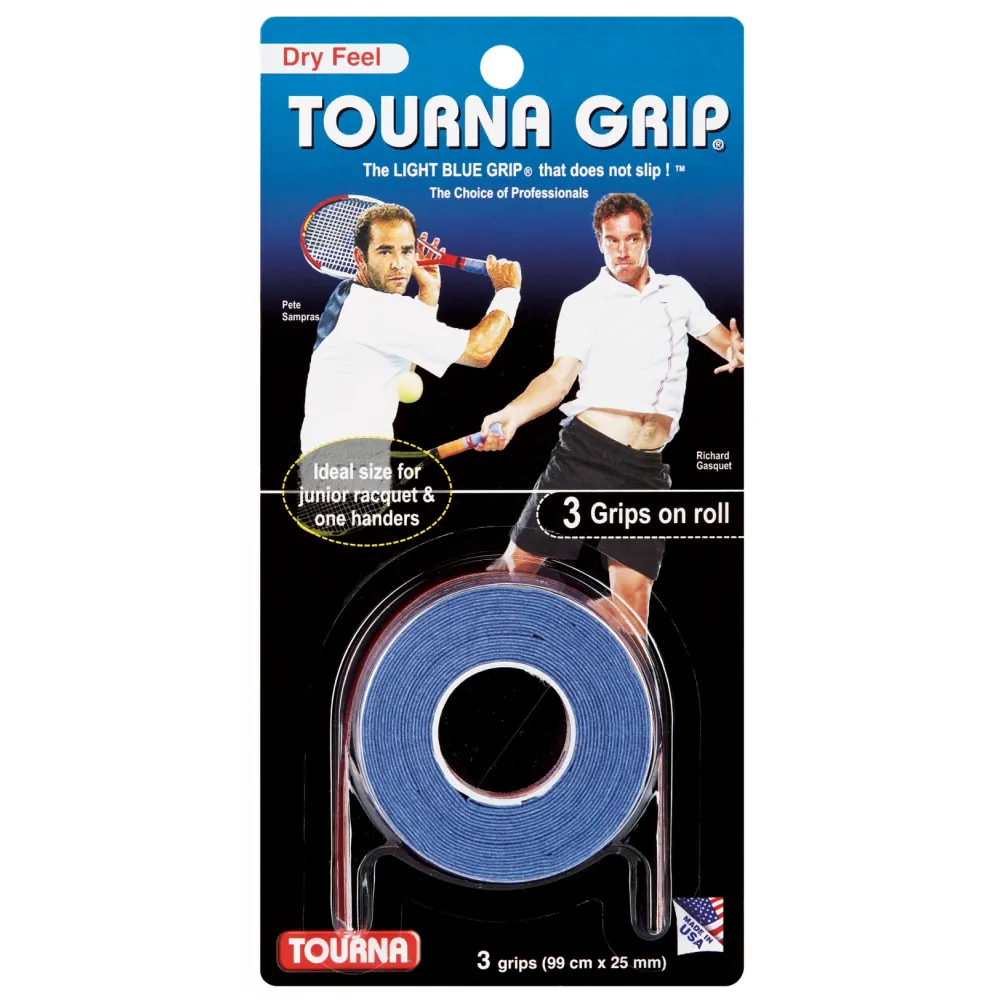 For years the Tourna Grip has been the go to grip tape for the sweaty set.
The reason is not just its ability to absorb moisture but the fact that it actually seems to get tackier as you sweat, improving your grip.
The drawback to that is that they don't last particularly long. As the grip soaks up sweat it starts to come apart. Not a problem if you're happy to keep replacing the grip regularly but be warned – that may become a bit pricey.
Also worth noting that the Tourna comes up a little bit short so if you've got an extended length racket or just prefer to wrap your grip a little looser then make sure you go for the XL size.
---
Pros:
Great moisture wicking
Durable
Thick and cushioned
Easy to switch grip position
Cons:
For those clammy handed players frustrated by the Tourna Grip's flakiness the Yonex Dry Grap has been a godsend.
Almost as good as the Tourna at drawing sweat, the Yonex lasts much longer due to the fact that at .65mm it's one of the thicker grips available.
That thickness means it's well cushioned and comfortable to hold although it lacks the tackiness of some of our other choices. In this reviewer's eyes that's a plus as it makes changing from a forehand to a backhand grip much easier but your own mileage may vary.
---
Pros:
Velvety soft
Helps with blisters
Easy to change grip position
Cons:
Most players who suffer from blisters do so because their grip is just too tacky.
The grip sticks to the skin so as you swing away for hours on end it starts to rub and tear.
There are two solutions – stop playing so much tennis or get yourself a less sticky grip. We know which we prefer.
The Head Prime feels lovely and soft – almost velvety – in the hand and is easy to twist to change position without sticking.
It seems to be nice and durable but beware – this is not one for warm weather. We call this one a Bon Jovi. Slippery when wet.
---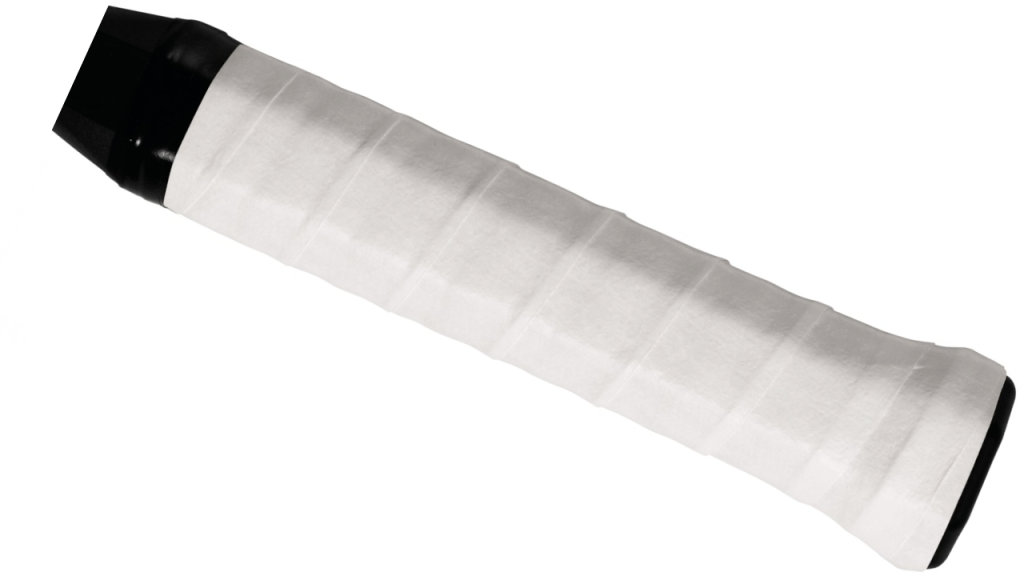 Pros:
Won't make the grip too big for your hand
Feel every sensation of every stroke
Cons:
If you're on the lookout for an ultra-thin grip your first stop should be the Wilson Pro Sensation.
Responding to those who found the original Wilson Pro too cushioned, this comes in 25% thinner at 0.4mm. That means you can still be in touch with the bevels of the original grip underneath, useful if you don't like to lose too much of the racket's original feel – or if your original grip is the perfect size but you just want to give it some additional protection.
As you might expect, the main drawback of a super thin tape is a lack of durability. This will come apart quickly.
---
Pros:
Good absorption
Ultra thin
Cons:
Not ideal if you're blister prone
If you need a thin grip tape and the Wilson Pro doesn't do it for you or you're just a Babolat Bro at heart then this is a good alternative.
Coming in at the same 0.4mm width as the Wilson, the Babolat boasts slightly better moisture absorption. In fact, this is Rafa Nadal's favoured overgrip and he's no stranger to a clammy hand. If it works for him you should be fine.
Like the Wilson, the thinness allows you to feel every contour of your original grip but does feel more comfortable somehow. And it's tacky enough to offer a decent grasp.
---
If you need to bulk out your grip or if you're just looking for a super cushioned experience, the Aqua Zorb is worth checking out.
This is the thickest grip on our list at 0.7mm and has a plush, soft, velvety feel.
It absorbs sweat almost like a sponge although the downside is that when it gets oversaturated it can become quite slippery. So it's great for those who sweat moderately but may not do the job if you're playing in very humid conditions.
---
Pros:
Extreme tackiness
Best for players with a loose grip
Nice and durable
Cons:
Not for the clammy
Hard to change from forehand to backhand
Personally I'm not a fan of overly tacky grips. They feel a bit gluey in my hands and I like to be able to switch from a Continental to a Semi-Western grip for example with a simple flick of the wrist.
That said, given the proliferation of Super Tacs and Ultra Tacs on the shelves these days there is clearly a market for super tacky grip tape. Enter the Tourna Mega Tac.
While there's no official measurement for these things this definitely feels like the tackiest grip we've seen so it's ideal if you have a loose hold on your racket.
As ever though that stickiness comes at a cost on the absorption front. Let's just say this is fine if you're Prince Andrew, less ideal if you're Andy Roddick.
---
How to choose the best overgrip for you
As you'll have understood by now there are two main choices when it comes to overgrips – Tacky Vs Absorbent.
Absorbent grips not only soak up excess moisture but actively wick it away keeping the palm nice and dry.
Tacky grips stick nicely to the hand and tend to be more comfortable and also durable.
So before you decide what kind of grip to go for, ask yourself the following questions:
How Sweaty Are You?
It may sound like a personal question but it's important to know. Do your hands clam up like a teenager on a first date? Or do you stay dry as a bone in the desert even in the heat of battle?
If it's the former you may be better off with one of our more absorbent choices such as the Yonex Dry Grap.
As an alternative measure you might want to consider using a liquid grip enhancer such as Tourna RX. You just apply the gel to your hands to dry them out.
Others who don't want to pass up a tackier grip swear by a rosin bag to keep in your tennis bag and absorb sweat between games.
How Tight is Your Grip?
Many players naturally cling on to the racket's handle for dear life. In which case you won't appreciate our more tacky options.
Likewise if you're an all court player and vary your shots between heavy topspin and slice you're likely changing grip regularly. You may find too much tack slows that process down.
Is Your Current Grip Wide Enough?
Ideally you will have already checked out our guide to selecting the perfect grip size but sometimes you find yourself in between sizes in which case our advice is always to go for the smaller size and add an overgrip. 
If that's the case you may be needing a thicker grip tape depending on how much width you need to add.
Do You Suffer From Blisters?
As already outlined, blisters usually arise from tackier overgrips catching on the skin of the palm causing it to rub the longer that you play.
If that's the case it's worth trying a less tacky option (we recommend the Head Prime Pro) to see if alleviates the problem.
Failing that you could always soak your hand in vinegar!
How Much Are You Prepared to Pay?
While all of our picks are fairly reasonably priced, if you're having to change your grip regularly that cost can add up. So our less durable options may have limited appeal.
That said, if you do find a grip that you love we would always advise buying it in bulk. Most of our tapes are available in huge multipacks which will reduce your unit cost considerably.
Get a Grip!
Hopefully by now you've got all the info you need to make your choice and get a grip.
If you're still confused about which one's right for you, we really love the Wilson Pro Comfort, offering a brilliant balance between tackiness and moisture absorption and an extremely comfortable swing.
FAQs
What's the difference between a replacement grip and an overgrip?
As its name suggests, an overgrip is designed to fit OVER the racket's original factory fitted grip handle to either protect it or add additional width or comfort. 
An overgrip is thinner than the original grip which is made of a usually synthetic – although occasionally leather – thick material and comes standard with every racket.
In the event that the original grip should deteriorate beyond repair you may need to replace that grip. While replacement grips are available to buy, be careful! This is not the same product as an overgrip. Overgrips are clearly marked as such. 
When should I change my overgrip?
How often you replace your overgrip is really down to personal preference.
Those who like a really grippy surface may find that after two or three full matches the tackiness of their grip has waned and may want to replace. Others are prepared to wait until the grip has started to fray at the edges.
Obviously it will also depend on how often you play, how much your hands sweat and what type of overgrip you use. Most of the thicker grips on our list tend to last a little bit longer.
It could be that you really just like the fresh feel of a new grip or even the routine of re-strapping it in which case you may like to replace it every match.
Fortunately most grips are fairly cheap (especially if you buy them in bulk) so you can go with what works best for you.
Can I use multiple overgrips at once?
f you find an overgrip that you love you won't want to let it go – even if it's not quite the right thickness for you.
If that's the case you may want to double up and wrap it twice. It's not unheard of for professionals to do exactly that. 
The drawback is that the more overgrips you use the less in touch you are with the original grip making it harder to feel the bevels so the racket is more likely to twist in your hand. 
But as with all of these things it's down to personal preference. 
Which overgrips do the professionals use?
Almost every player on the pro circuit uses at least one overgrip on top of their standard grip. We've listed a few famous examples below:
As mentioned above Roger Federer is a big fan of the Wilson Pro Overgrip and he isn't alone. It's also used by Serena and Venus Williams, Kei Nishikori, Sebastian Korda and Stefano Tsitsipas.
The Babolat VS Original is used by Rafa Nadal but his compatriot Carlos Alcaraz favours the Babolat Pro Tour Overgrip. 
Tourna Grip is an old favourite and extremely widely used on tour by such names as Andy Murray, Cameron Norrie, John Isner, Gael Monfils and Richard Gaquet who famously changes his Tourna multiple times in a match. 
The Tourna Grip was used by past legends too including Pete Sampras, Boris Becker, Andre Agassi… Not a bad list of endorsements!