Why?
Well, when you're a complete beginner you want a racket that's light and forgiving and easy to control, but beyond that you don't have any particular needs because you have no idea what kind of player you're going to be yet.
When you're buying an advanced racket it's the opposite. You know your own game inside and out so you know exactly what you need to enhance your performance.
But as a coach the most interesting time for me was when players were coming out of their training wheels phase. When they were discovering who they were as players – and what they needed from a racket. Be it more power, more control, a racket suited to the baseline or to the net…
That's why we've broken this guide down into categories. To help you really think about what it is you need from a racket.
If all that sounds like too much effort or you're still not sure what you're after we can say that our favourite all-rounder for intermediates is the Wilson Clash 100.
But stay tuned for some more tailored advice.
Our Top 7
Best Intermediate Racket Overall – Wilson Clash 100
Best Intermediate Racket on a Budget – Dunlop CX400 Tour
Best Intermediate Racket for Power – Head Boom MP
Best Intermediate Racket for Control – Tecnifibre TFight ISO 300
Best Intermediate Racket for Spin – Wilson Shift 99
Best Racket for Advanced Intermediates – Babolat Pure Aero
Best Racket for Beginner to Intermediate – Yonex EZone 100
Our Criteria
Before we get into the reviews, a quick word on how we decided which rackets to include on our list. In other words – what do we mean by an intermediate racket?
Head Size
For beginners we tend to recommend rackets with oversized heads – 105 square inches and above. That's because they're more forgiving, have larger sweet spots and provide greater power.
As an intermediate you should be able to play strokes more consistently and generate more of your own power so you'll benefit from a slightly smaller head size. That makes your racket far more mobile and offers much better accuracy and control.
For that reason we've recommended rackets around the 100 square inch mark.
Weight
Now you've been playing for a while you will have developed what we like to call your tennis strength. You're no longer confined to ultra-light frames which can feel a little lacking in power and stability.
Our choices therefore tend to be a little weightier, 300 grams or thereabouts.
Price
As an intermediate player you've clearly committed to the game and so it makes sense to spend a little more than you did as a beginner. That opens up a world of smarter technology and more advanced construction. But don't worry, we've thrown in a couple of more value options for the very price conscious. And if these still aren't for you, you can always check out our list of quality budget frames.
And with that said, we present to you our best rackets for intermediate players…
---
Head Size: 100 sq in | Unstrung Weight: 295g | String Pattern: 16×19
Pros:
Power to dominate points
Head light and speedy
Massive spin potential
Cons:
If you're an intermediate player with a decent all-round game that you're hoping to take up to the next level, the Wilson Clash 100 is a fabulous racket.
At 295 grams unstrung you're getting a nice step up in heft from your beginner stick without having to worry about muscle drain. That weight coupled with its 100 square inch head gives the Clash enough power to see you putting points away with ease.
The weight is concentrated in the handle making it super speedy, especially at the net as your reactions start to improve.
It allows for easy whip on your groundstrokes and the Clash's open string pattern generates a ton of topspin. If that's something you've got in your locker by now you'll love how much extra kick this racket gives you.
Wilson have incorporated their FortyFive technology which gives the frame additional flex whatever shot you're playing. That's a plus if you like a super comfortable feel although inevitably it comes at a slight cost in terms of stability.
In fairness even the stability issue seems to have improved since the original version of the Clash and it's a small price to pay for a brilliant all-rounder.
---
Head Size: 100 sq in | Unstrung Weight: 300g | String Pattern: 16×19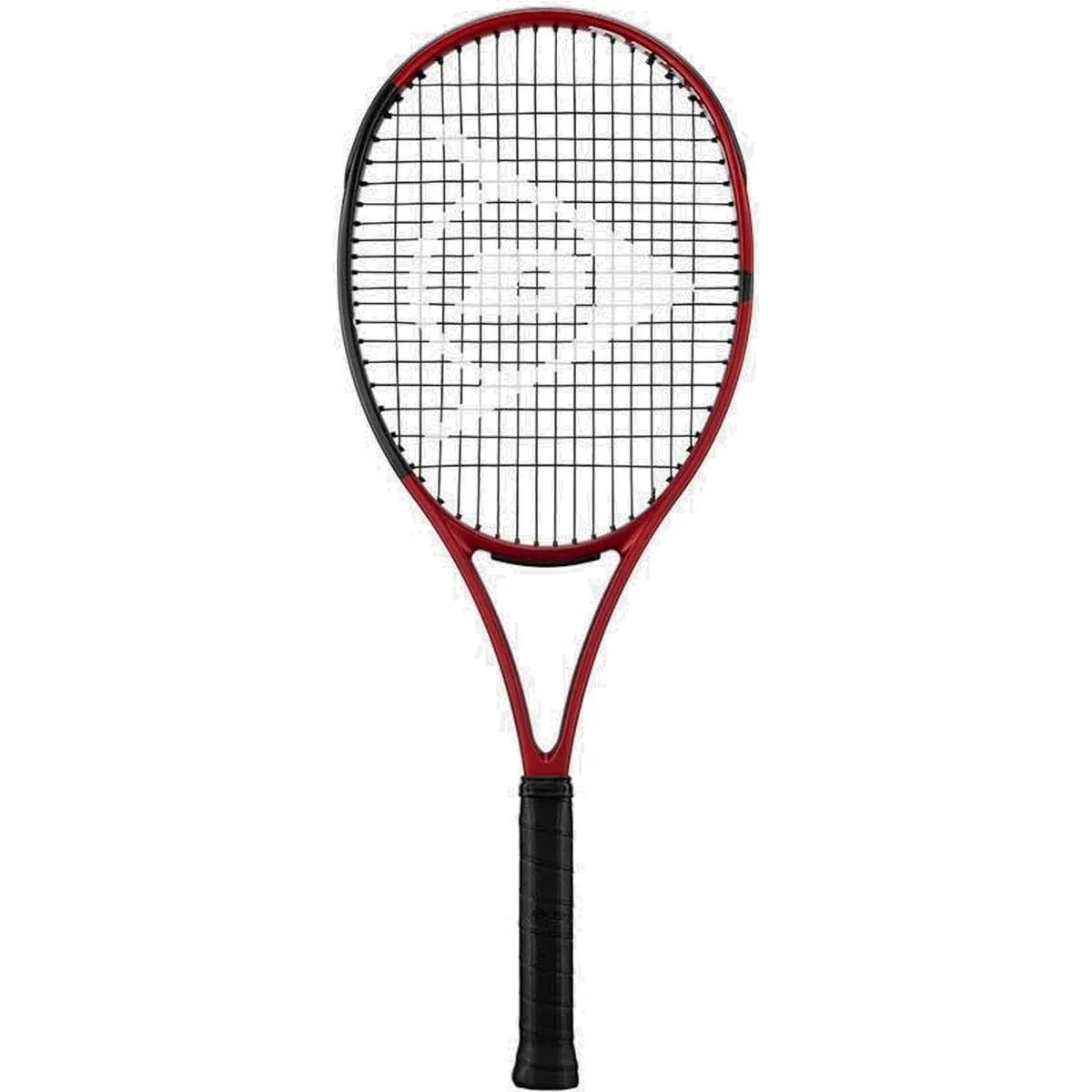 Pros:
High end specs on an entry level budget
Great for baseliners
Speedy around the court
Cons:
Not much if you find it cheap
Regular readers will know that we rate the recent Dunlop ranges extremely highly. They offer the kind of specs and playability of the more popular brands at a much more reasonable budget.
Add the CX 400 to that list.
As your game develops the likelihood is that you'll become less passive and more aggressive during points. The CX 400 will help with that. It's really speedy around the court allowing you to hit with more vigour and crucially get set in time to take the ball nice and early.
Like the Wilson Clash above it accelerates nicely through your shots, giving you plenty of whip and the grippy string bed generates lots of topspin. That makes this a real weapon from the baseline.
Despite its easy maneuverability the CX is nice and solid and deals with opponents' power fairly comfortably.
While not as flexible as the Clash, Dunlop have included their Flexbooster tech – essentially a rubber layer within the frame which absorbs harsh vibrations making for a comfortable swing.
As ever prices will vary but if you can get this for sub $160 you got yourself a really smart investment that will more than hold its own against your best mate's Babolat.
---
Head Size: 100 sq in | Unstrung Weight: 295g | String Pattern: 16×19
If you caught our round-up of the best rackets for generating power, you'll know we were impressed by Head's new Boom range.
What stood out was not only the racket's explosive acceleration but its ease of use which makes it perfect for a player graduating from a beginner stick.
The Boom's sweet spot is truly enormous so you'll have to go some to hit a really bum note. And you get real oomph in your shots thanks to Head's Power Grommets which allow more movement in the string bed.
Then, as now, we noticed that that gives you better ball pocketing and lots of grip for excellent spin potential. And the Morph Beam frame combines a control oriented length with a powerful head.
The cost to all this lightweight power is a slight lack of solidity to the frame but if you want to add more thrust to your game – or if you already lean on big shotmaking and want to make that even more of a weapon – it's a price worth paying.
---
Head Size: 98 sq in | Unstrung Weight: 295g | String Pattern: 16×19
Pros:
Great for precision shot-making
Solid, consistent response
Smaller head for improved mobility
Cons:
If generating power is no issue for you and you're more concerned about improving your shot placement and consistency, you'll appreciate this Tecnifibre.
Although the 98 square inch head size is more common to an advanced player's racket, at only 300 grams unstrung the frame is light enough for intermediates aiming for extreme precision.
If you're graduating from an oversized beginner's stick you'll love how easy the TFight is to manouevre around the court. That allows you to hone your technique and take full benefit of its extremely consistent response.
This has a really solid feel about it (it's pretty low flex) making it handy at the net. Get even a nibble at your opponent's passing shot and the racket does the rest.
While it can handle a rival's power, it's just a little lightweight to generate a whole bunch of its own. That means you might yearn for a bit more pop from a flat first serve. Although if you're working on a slice serve you'll find this offers plenty of spin.
---
Head Size: 99 sq in | Unstrung Weight: 300g | String Pattern: 16×20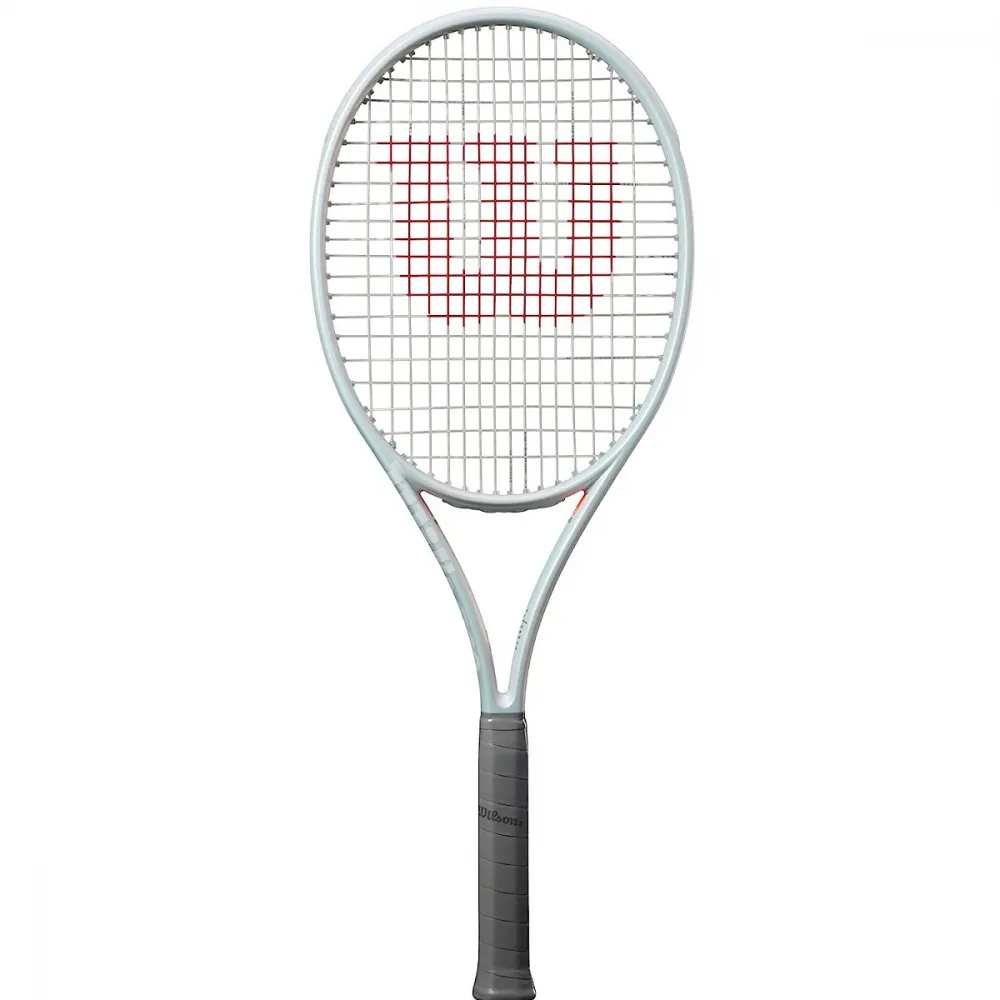 Pros:
Bags of topspin
Extremely comfortable
Great balance between control & power
Cons:
You've been playing for a year or two, you've mastered all the basics and you've just started experimenting with a full Western forehand grip that you can't wait to unleash on the world.
It's time to find a racket that specialises in topspin.
The Shift is Wilson's brand new line of rackets that (they claim!) is designed to flex laterally (for better ball pocketing and additional spin) while still being torsionally rigid (in other words stable and solid).
With its 99 square inch head and manageable 300 gram unstrung weight this is easy to get around the court and allows for quick reaction times. As promised its got a good solid feel to it while still unleashing some pretty devastating spin. It's easy to wind up for a big ground stroke and still drop the ball within the baseline.
We're always wary when recommending rackets for spin as they're only really going to deliver if your technique is sound. But the Shift has enough going for it in terms of power, speed and feel that you should enjoy using it anyway as your technique improves.
Which makes it a great choice for an intermediate with ambition.
---
Head Size: 100 sq in | Unstrung Weight: 300g | String Pattern: 16×19
Pros:
Dominant at the baseline
Extremely heavy topspin
Aggressive levels of power
Will suit advanced players too
Cons:
A little tough on the joints
Speaking of rackets that deliver on spin, the Pure Aero Rafa was our top pick in our round up of spin friendly sticks.
This – the latest version of the original racket – comes in very slightly heavier than that model making it a good choice for an intermediate looking to push on.
The Aero's particular USP is its aerodynamic frame design which gives you great acceleration through your shots meaning you can generate as much power and spin as your technique/body will allow.
That means – like Rafa – you can dominate points from the baseline while putting away shots on the run is a lot of fun.
If you see yourself as a gentle tactician style of player this might not be the one for you but if you want to explore your aggressive side and dominate opponents with power and topspin the Pure Aero is a blast.
While previous generations have come in a little stiff and harsh on the elbows, Babolat have introduced their NF2 tech to the latest models. They've added some Flax fibre at key parts of the frame to absorb harsh vibrations and soften the feel a touch.
It's still a pretty stiff frame though to be honest. Great if you like to feel in complete touch with your shots, less so if you're prone to sore joints.
---
Head Size: 100 sq in | Unstrung Weight: 300g | String Pattern: 16×19
Pros:
Easy transition from beginner sticks
Huge sweet spot in a smaller head
Great feel
Cons:
Does everything well, lacks a big weapon
It can be a difficult transition moving up from a beginner's racket. You just got comfortable with the weight and feel of your Head Ti S6 and now you're having to adjust your game to a new set of specs.
If that's something you're wrestling with the Yonex EZONE is worth looking into.
Although it has the weight and smaller head size of most intermediate sticks, the EZONE is instantly playable and easy to use. Its Isometric head gives it one of the largest sweet spots we've encountered so duff shots are a rarity.
While maybe not best in class for either, you get the level of power and spin you'd expect from a higher end racket but in a much more comfortable package. It offers a really plush feel off the string bed, is gentle on the arm and the pop you do get is nice and easy to control. You can place the ball where you want it.
This latest update features a thicker beam at its centre making for a stable feel, particularly handy on return of serve. It won't get pushed around.
All in all for an all round intermediate racket that's easy to pick up and play with and won't require a long period of adaptation, the EZONE is a great choice.
---
How to choose an intermediate racket
As I mentioned above, choosing your first intermediate stick is no easy business. You need to be honest and brutal when analysing your own game and the first question you have to ask yourself is…
Am I ready for an Intermediate Racket?
This one's a feeling as much as an exact science.
You will reach a stage in your practice when your ability and technique has outgrown what your beginner racket is capable of. Maybe you can hit with a certain amount of power now but your racket feels flimsy on the follow through. Maybe you feel you don't need such a large head size and crave a more mobile frame.
The likelihood is that shift will happen once you've been playing regularly for one or two years.
You've built up sufficient strength in your upper body that your existing racket feels light in your hand.
You've mastered the basic strokes – forehand, backhand, volleys, serve – and can hit each with a fair amount of consistency at a medium pace.
You're capable of pulling off drop-shots and lobs to some extent and have started to experiment with topspin and slice.
If you've been given a NTRP rating from a coach you should be somewhere between a 3.0 and a 4.0. If you don't have that rating take a look at our guide to figure out where you stand.
What's my preferred style of play?
Now you've been playing for a while you should be starting to get an idea of where your strengths lie.
Do you mainly play from the baseline or do you like to come in early to the net?
If it's the latter you need a racket with good stability and a smaller head size for easier mobility.
If the former you might choose a more powerful racket with a slightly bigger head.
Do you value control over power?
If you've struggled to generate pace with your current stick but you're pretty consistent when it comes to shot placement, now's the time to look for a more powerful racket.
On the other hand if power's never been a problem for you, you might enjoy the improved accuracy of the TFight 300 for example.
HT Tip: Bear in mind that the opposite can be true. You may well choose to lean into your strengths rather than correct for them. Only you can make that choice!
Am I looking to step up my game even further?
For many players the intermediate level is as far as they plan to go with their tennis, giving them the ability to play recreationally to a decent level.
But for some it's a stepping stone to a more advanced level and for those players we'd advise considering a racket for the longer term. That said, many of these picks – the Wilson Clash and the Babolat Aero in particular – will be perfectly adequate as you expand your game.
Out of the Dark, Inter the Light
We hope you've found this round-up helpful and your Intermediate racket takes your game up to the next level.
Remember, if on reflection you don't feel quite ready to make that step up you can always check out our list of the best tennis rackets for beginners. Or if you want to skip the intermediate step and go straight to the top have a look at our best rackets for advanced players.