Which ball you need will vary depending on the type of court you play on, the climate conditions and whether you're at competition level or just running drills.  
That's why we've put together this handy guide to help you choose which balls are right for you.
Our favourites overall are the legendary Wilson US Open balls and most pros would agree. But if you need some more nuanced advice then read on!
Our Top 8
Best Tennis Balls Overall – Wilson US Open
Best Cheap Tennis Balls – Penn Championship
Best High Altitude Tennis Ball – Wilson High Altitude
Best Tennis Ball for Hard Courts – Dunlop ATP Championship XD
Best Tennis Balls for Clay Courts – Wilson Roland Garros
Best Tennis Balls for Grass Courts – Slazenger Wimbledon Ball
Best Practice Balls – Tourna Pressureless 
Best Tennis Balls for Kids and Beginners – Gamma Beginner
Our Criteria
In selecting the best balls in each category we had to ask ourselves – what makes for a good tennis ball?
The key factors that we looked for were reliability of performance, durability, consistency of bounce and value for money. 
That doesn't mean that these are all the cheapest balls available, just that for the performance and quality they are worth the cash.
Finally, all the balls presented here are approved by the ITF (International Federation of Tennis) having undergone rigorous testing. You can find out more about the tests they conduct right here.
Regular Duty vs Extra Duty
You'll notice that many of these selections are available in both Regular Duty and Extra Duty. This refers to the quality of the felt used around the ball.
Regular Duty balls have a thinner felt that makes them more suitable for softer surfaces such as grass, clay or carpet. The finer covering picks up less debris so the ball isn't slowed down.
Heavy Duty balls meanwhile have a thicker felt improving their durability. They're better suited to hard courts as they can take more of a beating.
And with all that in mind let's kick on with our look at the best tennis balls.
---
BEST TENNIS BALLS OVERALL
Pros:
The Official US Open ball
Premium performance
Consistency
Last a while for pressurised balls
Cons:
As the name suggests, these are the official ball of the US Open (and have been for forty plus years)  and are probably the most ubiquitous ball in the professional game. 
The reasons are clear. When you pop them out of the pressurised can you find premium balls with a quality woven felt that deliver on performance. 
The bounce is always consistent, and while – like all pressurised balls – the freshness wanes after a while – these are still playable two or three weeks after opening if you look after them and they don't get wet or dirty.
They're available in either Regular Duty or Extra Duty for harder courts.
---
BEST VALUE TENNIS BALLS
Pros:
Exceptional value
Consistently good quality
USTA approved for competition
Cons:
Don't last as long as the Wilson US Open
The Penn Championship is a favourite choice for me and given that it's the best selling ball in America, I'm clearly not alone. 
It's always delivered extremely high quality and consistency and I've never quite understood why it's that much cheaper than the more premium offerings. 
Perhaps it won't stay as fresh for as long as the Wilson US Open above but I've always liked the feel of popping open a new can with every game and at these prices you can afford to do that (especially if you purchase in bulk). 
Like the US Opens they're approved by the USTA for competitive play.
---
BEST HIGH ALTITUDE TENNIS BALLS
Pros:
Works great at high altitude
Same Wilson quality
Cons:
If you've ever played at higher altitudes (characterised as 3,500 ft above sea level) you'll know that tennis can be a different sport.
As we explore in our piece on fastest court surfaces, the ball zips through the air and bounces much higher due to the high pressure. That means you need a slightly different type of ball to compensate.
This high altitude version of Wilson's US Open features a depressurised core to slow them down to a more playable speed. Other than that the quality is as you'd expect from Wilson's premium ball.  
---
BEST TENNIS BALLS FOR HARD COURTS
Pros:
Extra durable felt for hard courts
Tougher core
ATP's official ball
Cons:
Playing on hard courts means your balls take a bit of a beating and that can shorten their lifespan considerably.
For that reason you're better off with a more durable ball when playing on hard surfaces. Dunlop have seen to that with the ATP Championships.
These feature their tougher Max Core innard surrounded by what they call Durafelt, a longer lasting outer suited for hard court play.
They have a nice consistent playability and bounce as evidenced by the fact that they were selected a few years back as the official ball of the ATP Tour. 
---
BEST TENNIS BALLS FOR CLAY COURTS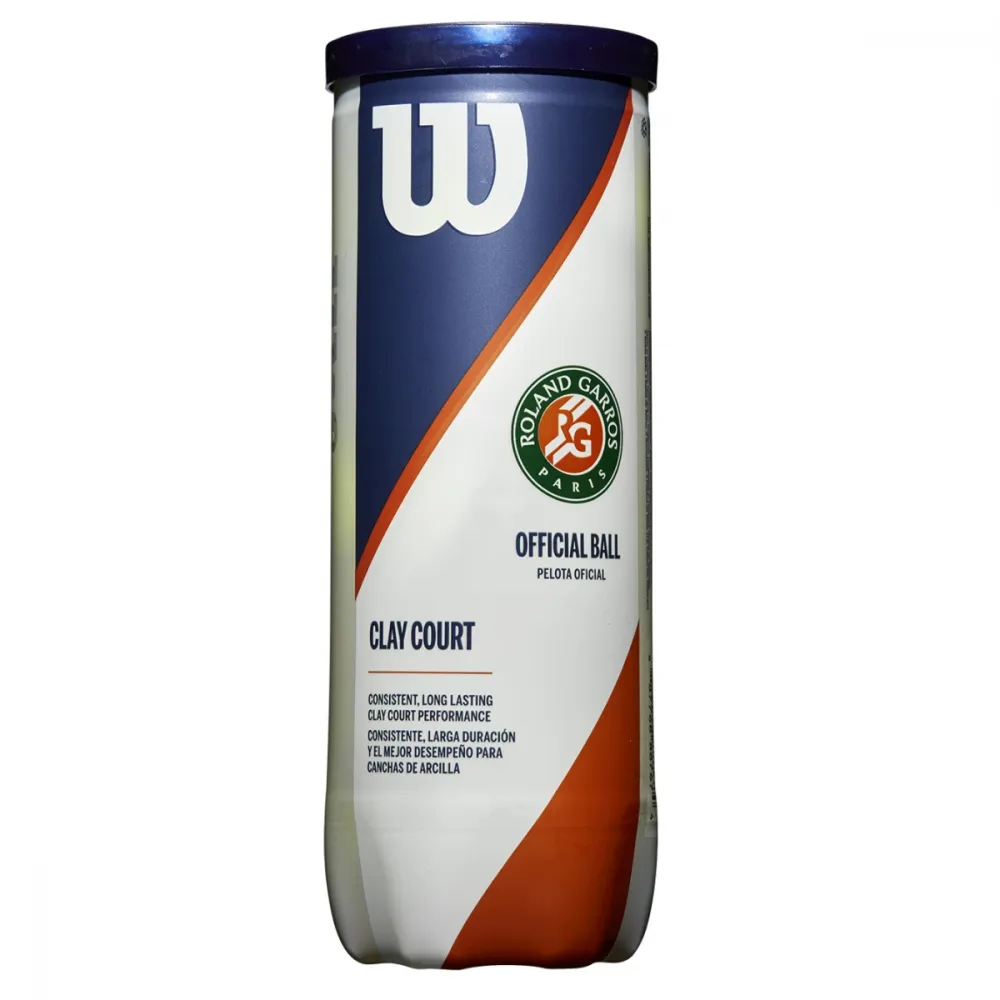 Pros:
Delicate felt to minimise dirt pick-up
Durable for baseline battles
Official ball of the French Open
Cons:
It's not just your shoes and socks that get smeared with the red stuff whenever you play on clay. 
Your balls do too which is why Wilson have designed these to minimise dirt and moisture pick up. They do that by using a thinner felt so that the ball's performance isn't slowed by all that debris.
They've got a natural rubber core to aid with durability which is especially useful for those long, hard-slugging, baseline battles. 
This is the official ball of the French Open if you needed any more proof of credentials. 
---
BEST TENNIS BALLS FOR GRASS COURTS
Pros:
Moisture resistant for damp grass courts
High visibility in the gloom
Official Wimbledon ball
Cons:
Not durable enough for hard courts
Not everyone reading this will have had the privilege of playing on a grass court but if you do you'll appreciate the need for a ball with a good consistent bounce that resists water.
Slazenger have achieved that with their Hydro Guard felt which they claim repels 70% more water than a standard ball. They would need it too. As the official ball of the Wimbledon Championships they're no stranger to the wet.
Speaking of poor weather they also come in an eye-popping Hi Viz yellow so you can see the ball clearly even on gloomy London days. 
They're maybe not as durable as some of our other choices but that's not a huge problem on a softer court. 
---
BEST PRACTICE BALLS
As a tennis coach – especially doing large group sessions – it's just not economically viable to be cracking open ten fresh three packs of Wilson US Opens at the start of the day. 
While the quality might be better, they really won't last long being hammered around by kids and the playability will soon drop. That's why we'd use a large container of Tourna Pressureless instead.
With a solid rubber core these balls don't rely on vacuum seals to keep their bounce so they last a LOT longer.
That makes them a good choice for squeezing into a ball hopper or running through a ball machine. And the quality is certainly good enough for a practice level ball.
Buy them in bulk buckets and they're even more economical. 
---
BEST FOR KIDS AND BEGINNERS
Pros:
Balls designed for each stage of child's development
Slow enough to focus on technique
Great value
Cons:
Obviously not for advanced players!
When kids are learning the game the last thing they need is highly pressurised performance balls that fly all over the place.
Instead of chasing balls around all day, little learners need to spend as much time as possible focussing on technique. That's why the recommended balls for junior tennis and mini tennis are slower, less bouncy and lighter than the adult standard.
As per protocol these Gamma kids' balls fall into three traffic light colour-coded categories:
Red balls, also known as Stage 3 balls, are aimed at ages 4-7. They're slightly larger than adult balls and are 75% slower. They're designed for use on an 11m x 5.5m court.
Orange balls, also known as Stage 2, are aimed at 7-9 year olds and are 50% slower than adult balls. They're generally used on an 18m x 6.5 m court. 
Green balls, or Stage 3s, are for 9 year olds and above. They're only a smidge slower than normal balls and so are also handy for adult beginners who want to focus on their stroke-making. 
These balls are of good quality and come in at a great price. Highly recommended. 
---
How to choose the right type of tennis ball for you
As you'll have seen above, tennis balls fall into seven general categories.
Pressurised
These balls are filled with pressurised air which makes them lighter and bouncier when fresh. They're stored in vacuum sealed tubes that you're no doubt familiar with and they're extremely satisfying to crack open.
The only downside to them is that over time that high pressure fades and they lose their crisp bounce.
Pressureless
Heavier, sturdier and often filled with solid rubber, pressureless balls lack the zip of their flighty cousins but last a whole lot longer.
Although never used in competition they're great for practicing and ball machines and are often used by coaches.
High Altitude
A form of pressurised ball, just the interior is lower pressure than standard.
This enables the ball to fly a little slower and a little lower in high altitude climates.
Regular Duty
Regular Duty balls have thinner felt coverage and are designed for softer surfaces to resist debris. They're less hardy but that's okay as they take less of a pummeling.
Extra Duty
These balls have a much thicker felt and more durable core to withstand harder court surfaces.
All Court
All Court balls fall somewhere between the two above and are suitable for play on any surface.
The Top Tennis Ball Brands
While all of our recommendations are from top brands, there are many other high quality brand balls to look out for, especially if you aim for their premium offering. Some brands to look for include:
Wilson
Penn
Dunlop
Tretorn
Diadem
Babolat
Gamma
Head
Tecnifibre
Yonex
Slazenger
Gamma
What balls are used at the four Grand Slams?
If you're looking to emulate the pros you can't go wrong with the balls that are officially used at the Grand Slam tournaments.
They are as follows:
New Balls Please!
Hopefully this guide has cleared up any confusion when it comes to which balls to buy. We think the best ball on the market overall is the Wilson US Open. 
If you're looking to freshen up your racket game, don't forget to look at our best rackets for beginners and advanced players. 
FAQs
What is the toughest tennis ball?
If you're looking for an extra durable, hard to break tennis ball, particularly for a dog, we'd recommend the Tuff Balls Industrial Strength Dog Ball.
It's made of thickened rubber, is non-toxic and is resistant to even heavy chewers!
What do the numbers mean on tennis balls?
Short answer – absolutely nothing. They don't relate to the quality of the ball. They're just there to help differentiate your balls from your neighbours' on the next court along.
Can I buy used tournament balls from Wimbledon and the US Open etc?
Yes! If you're lucky enough to get tickets to Wimbledon you can buy used tournament balls each day at the Wimbledon Foundation Kiosk. And they're only £2.50 a can. Proceeds go to Wimbledon's charitable foundation.
Game used US Open balls can be bought online at the US Open Shop.
Why are tennis balls yellow?
The International Tennis Federation introduced yellow tennis balls in 1972 to make them more visible for TV viewers. Before that the balls used were usually white.
Should I invest in a tennis ball saver? Are they any good?

Ball Savers are a pretty nifty device designed to extend tennis balls' lifespan by storing them in a pressurised container.
 
To that end they do work. Certainly versus storing them in your tennis bag. They can help balls retain their bounce for much longer although they won't feel like brand new. 
What they can't help with is restoring worn felt or removing dirt and moisture that can slow your balls down. 
But they're definitely worth a try if you have the patience to use them. We recommend the Gexco Tennis Ball Saver with its retro styling.